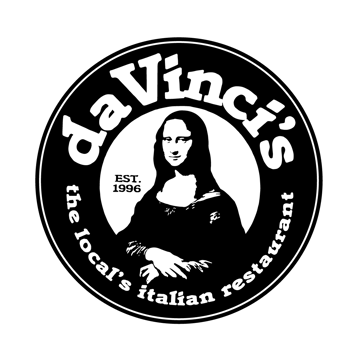 All full size entrees include our bottomless house salad bowl with daVinci's homemade Italian dressing and freshly baked Tuscan bread, or substitute a Caesar salad for an additional charge.
Meat Lasagna
Layers of beef, port, and cheeses with our classic Bolognese meat sauce.
Vegetable Lasagna
Layers of lasagna with zucchini, yellow squash, spinach and cheeses, smothered in our Tuscan tomato sauce.
Seafood Lasagna
Layers of lasagna with bay shrimp, bay scallops, spinach and onions, smothered in our balsam Ella sauce and topped with parmesan cheese.
Spaghetti & Meatballs
Fresh spaghetti and our homemade Tuscan tomato sauce with, of course homemade meatballs.
Eggplant Parmigiana
Breaded eggplant baked with mozzarella cheese and Tuscan tomato sauce, served with a side of angel hair pasta.
Shrimp Scampi
Prawns sautéed with garlic, butter, white wine, red chilies and parsley, served with a side of angel hair pasta.
Tri-Colored Three Cheese Tortellini Alfredo
Spinach, tomato and egg tortellini smothered in daVinci's alfredo sauce.
Cheese Ravioli with Tuscan Tomato Sauce
Cheese ravioli smothered in a roma tomato, garlic, white wine, red pepper flake, and Italian spices sauce.